There was a "chill" in the air at Warren Woods Middle School March 18th.
That's because Darrin Brege, illustrator of Johnathan Rand's popular "American Chillers" and "Michigan Chillers" series, was in town to discuss art with Katie Duffy's seventh-grade art students.
Brege has worked on animated storybooks for Disney, Hasbro, Universal and Warner Brothers. Winnie the Pooh, Bullwinkle and Tonka Joe are among the characters he's drawn. His visit was geared to motivate students. He also passed on several drawing tips and sold copies of his new book "The Chill Art Sketchbook," which demonstrates how to draw the "Chillers" book characters.
"They were really excited about it," Duffy said. "It is nice to see a working artist and what he's doing."
During his presentation, Brege, who brought his wife Karen Bell-Brege, used an easel to demonstrate how he creates his drawings. The students, with blank sheets of white paper and pencils, sat on the floor and followed Brege's lead. When drawing his characters, Brege often starts with a stick figure, shapes are added, and Brege then focuses on perspectives, shading, outlining, and detailing.
"As artists, we need to look around us," Brege said. "Drawing takes time. If you want a cool drawing, it's going to take some time."
One demonstration included Brege breaking down a face. He drew an egg-shape head on blank paper and then drew a line to split the head in half. Taking suggestions from the students, Brege decided to go with a "squatty head."
"Let's give his jaw a bit of excess. We're going to make this guy angry and make some thick, angry eyebrows." Brege said. "Let's give him bags under his eyes. Let's give him a big mouth and let's put some messy teeth in there."
Voila.
"All we did was place shapes around where we wanted them," Brege said.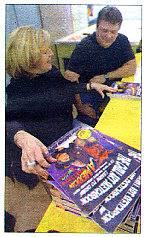 Along with being an artist, Brege has a talent for celebrity impressions. His WWMS visit left some time for the students to enjoy his and Bell-Brege's character voices. The couple, whose son Mick is 9, met when Brege auditioned for Bell-Brege's comedy troupe "Totally Unrehearsed Theatre" at Mark Ridley's Comedy Castle in Royal Oak.
The couple performed a brief sketch to become Ozzy and Sharon Osbourne, and then switched gears to do their best Marge and Homer Simpson impressions. The students egged them on for more, so Brege brought to life Yoda and Chewbacca from "Star Wars" and Adam Sandler. Beavis and Butthead are among Brege's favorite to perform.
"You can live in Michigan and work in the arts," Bell-Brege said. "All kinds of opportunities open up for you when you find that one thing you love."
"Whatever you do, it takes a lot of practice," Brege said. "It takes a lot of schooling."
"You take on phrase or one sentence and practice it over and over," said Bell-Brege adding comedian Joan Rivers is her favorite to impersonate. "She's so out there."

Darrin Brege is available for school visits, book signings, personal appearances and freelance graphics. For further information, contact chillerartist@yahoo.com. "The Chill Art Sketchbook" is available at local Borders and Barnes & Nobel bookstores and at www.chillerart.com.
You can reach Maria Allard at allard@candgnews.com.