Get ready to laugh and have fun with TUT again!
Join us April 10th, at Mark Ridley's Comedy Castle at 8:00pm for an evening of hilarious improvisation. Bring your best suggestions and prepare to help make this funny show one to remember.
Tickets are only $10.00. Call (248)542-9900 to make your reservations today (required).
It's TUT TAKE 2! Karen Bell-Brege, Jeff Wilson, Heather Kovacik, and Darrin Brege (yep, the Brege's are married). We have been around performing our hilarious improv comedy show since 1993. As a group, we have over 3000 hours of live performance. We have been everywhere from some guy's basement to the Detroit Institute of Arts.
Totally Unrehearsed Theatre (TUT) is Michigan's premiere improv troop. When we say improv, we mean improv, the actual spur of the moment, off the cuff type of humor that is synonymous with its name. Their hilarious performance consists of theatre games and original sketch comedy. Every show is a wonderful mix of wit, characters, celebrity impressions and humorous antics that will surely leave you laughing.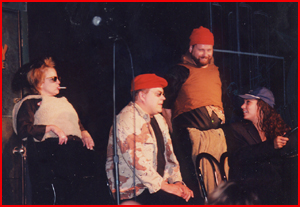 The four of us have been performing for clubs, colleges, parties, corporations, opening, seminars, conventions, fund-raisers, and holiday parties for over a decade.

Their roster of clubs go from Vegas to Albany. They have a corporate list of references which includes such names as Ford Motor Company, General Motors, Detroit Edison and Rockwell.

Click Corporate Information for more details
.Totally Unrehearsed Theatre also offers humor training. Through their laughter and improv sessions they guarantee to restore smiles on the longest of faces and brighten outlooks while instilling communication and teamwork.