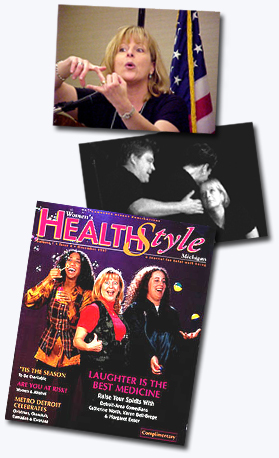 Karen Bell-Brege has proven that through improvisation and laughter anything can be accomplished. A speaker, trainer, comedian, and author, she is also the founder director, and performer for the highly acclaimed improvisational comedy troupe Totally Unrehearsed Theatre. For the last two decades, Bell-Brege has performed for, and trained hundreds of corporations, health care organizations, and associations on the benefits of improv.

Bell-Brege studied improv with the renowned Paul Sills (the founder of one of the first performing improv comedy troupes in Chicago and son of Viola Spolin) as well as at Second City, Chicago. She is also the improv instructor at Mark Ridley's Comedy Castle.

A graduate of Brown Institute, she is a former Communications Specialist for UAW-Chrysler, and a Telly Award recipient. Bell-Brege has worked in broadcasting as an announcer, and has toured nationally for Working Woman magazine. She also does commercials and voice-overs and can be heard doing celebrity impressions on various radio stations, as well as on numerous computer games by Hasbro, Universal, and Scholastic, and for such corporations as AT&T, Dell, Trolli and more.

As a published author of 10 children's books, she also presents at numerous schools every year inspiring children to read and learn through laughter. She is also a freelance writer for ELAP, and various publications.

A member of the National Speakers Association, Association for Applied Therapeutic Humor, The International Society for Humor Studies and The Society of Children's Book Writers and Illustrators.